Warning! This is a vanity publishing blog entry. Don't blame me if it bores you rigid. This is as much for me to read back to myself in my addled dotage as it is for wider interest. If you stumble across it and enjoy it, though... please let me know!

Cheers,


Ken
Friday dawned early and we were quick to break camp, load the bikes and hit the road, initially back to Hillberry, via Douglas. Finding nowhere to park with bikes laden with gear, we swiftly relocated to Governors Bridge, and picked ourselves a decent viewing point from where we could see the bikes.

motomuffin
also had a... somewhat disturbing... encounter with one of the marshals at Governor's. The least said about that the better.
Sadly, after a couple of passes by travelling marshals, the heavens opened briefly and the whole programme was delayed, so we headed back into Douglas for Brunch at our favoured cafe...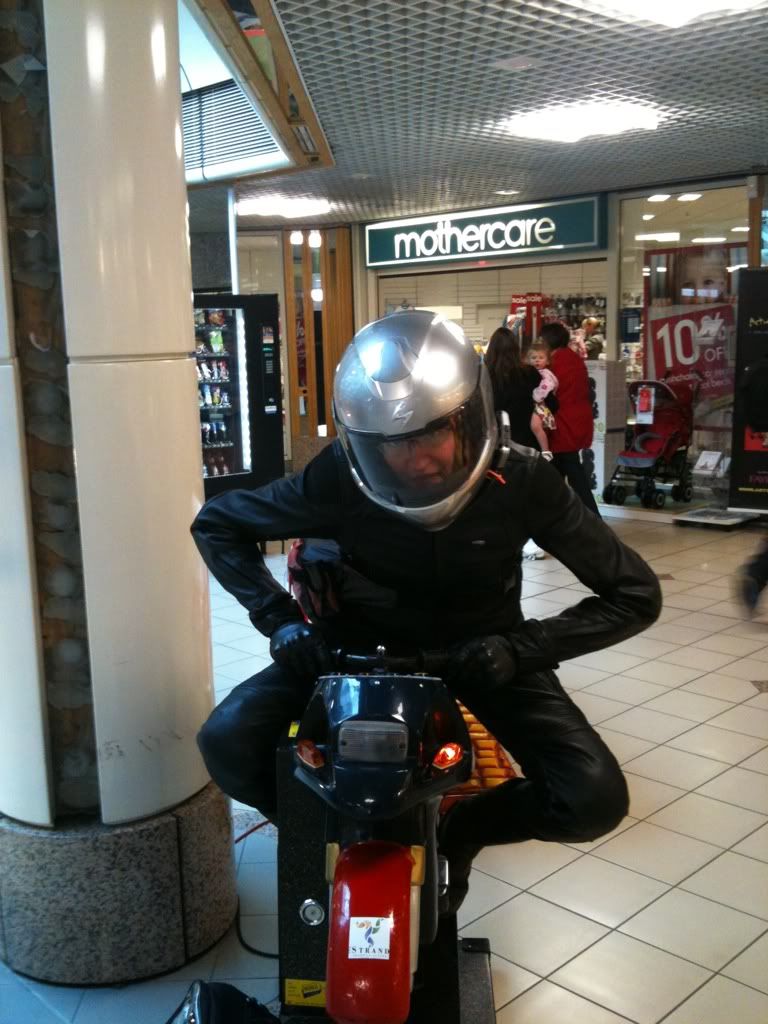 Stomachs placated, we nipped back out to Governors in time to see the very loud, very noisy T.T. Milestones parade, led - again - by John McGuinness - who on his return told race control in no uncertain terms that he wasn't racing in the extant conditions.
This time, chastened by nearly becoming statistics on Wednesday, his fellow riders basically backed him and also refused to ride. Faced with a Senior TT minus all the star riders, race control backed down and went for a very delayed start. The 6 lap Senior TT didn't kick off until almost 5:30pm, so if we'd still been trapped on the camp site, we would have been having a very bad day indeed, stressing about making our ferry on time.
This was Guy Martin on lap 4...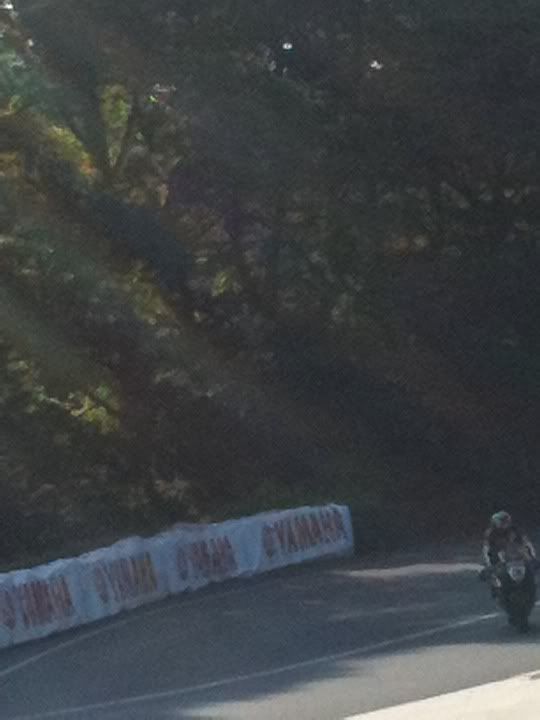 ...and this was McPint on Lap 5, by which time he basically had it won...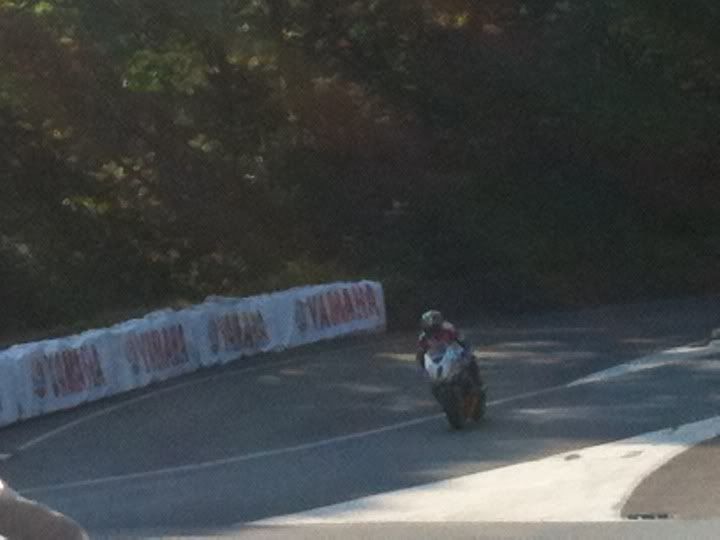 Next stop, Douglas prom for an evening snack in Colours, which is basically the Isle of Man's only nightclub, but not at 5pm on a Friday night. From there we watched
The Vulcan
display over the bay...
And then we were aboard the ferry, after more loading and boarding chaos (but no breakdowns this time) and off back to Liverpool, serenaded by an enormous end-of-TT firework display in Douglas Bay as we sailed out of Douglas and waved Mona's Isle goodbye...
And then we both fell asleep, awaking only as we steamed into Liverpool at 2am. The hotel was about 50 yards from the port (I was booking with priority club points and the cheapest Holiday Inn Express near Chester was the same price in points as the posh Crowne Plaza next to the ferry terminal, so it was a no brainer...), and they allowed us to park our bikes right outside the window of reception...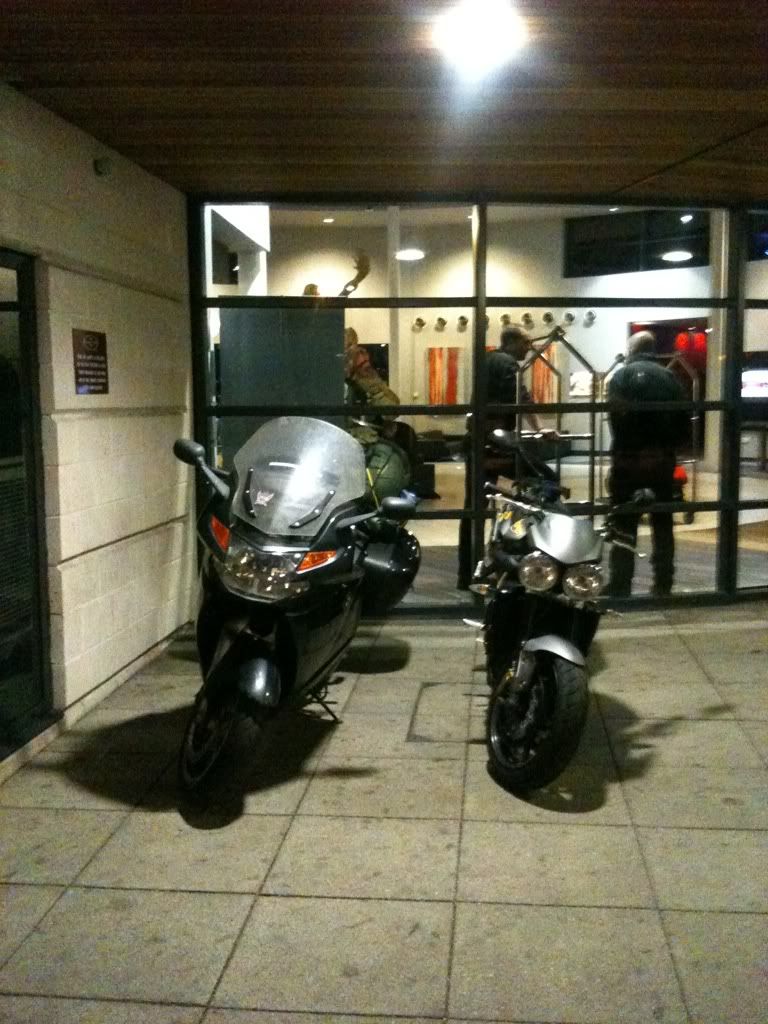 At last! A decent shower, and a comfy bed. We both slept the sleep of the dead and were woken up by the hotel in time for a hearty hotel breakfast, then we re-loaded the bikes and hit the road...
At least we had the (brilliant) A483 south through mid Wales to ride, as we headed further away from the 2011 TT with each mile. We spent the whole day just missing the rain, either arriving just after it had passed or beating it to the punch, with only the occasional raindrop to keep us honest. South of Newtown, the A483 turns twisty and... awesome. We had much fun riding down to Carmarthen, although we arrived quite late in the day. We just had time for

motomuffin
to throw a bunch of stuff in the washer drier and pick up a giant roller bag to take all the extra crap she had acquired on her trip home with her, and then it was Pizza, single malt Whisky and bed. All that remained was to drop her off at Port Talbot railway station the next morning, en-route to Heathrow, and TT2011 was officially over for us...